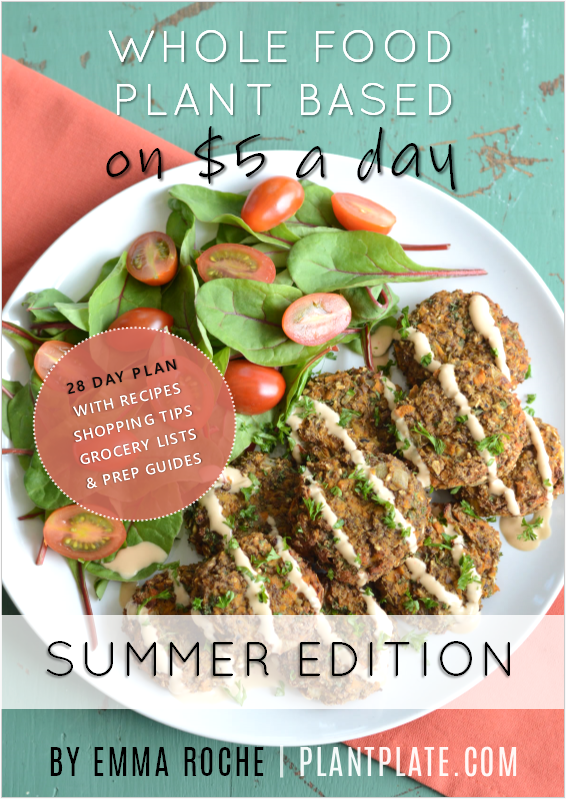 "It's too expensive to eat healthy!" This is a common phrase that permeates from the mouths of the masses. I don't blame them either with the price of some grocery items. While it can be expensive to eat healthy, it doesn't have to be. I like to tell people that it's all in what you make of it.
Emma Roche has done a fabulous job making healthy eating both simple and delicious. In fact, she's one of the best I've ever seen at this! She turns healthy eating into something that anyone can do and afford. Her readers benefit in the process too as their cholesterol, blood pressure, and weight all drop. Emma's new ebook Whole Food, Plant-Based on $5 a Day – Summer Edition helps them accomplish this. Her first ebook, Whole Food, Plant-Based on $5 a Day, was a reader favorite too! You can learn more about that book here.
I want to highlight some amazing features from Emma's new book in this book review, but before I do I had to ask this question to Emma that I think you'll appreciate:
Dustin: What is the single most important piece of advice you can give to others out there wanting to go on and stay on a long-term, healthy eating program like a whole foods, plant-based (WFPB) diet in your book?
Emma: Keep it simple! Some people think of whole food plant-based eating as an incredibly complicated endeavor, but it doesn't have to be. I think that because there's so much information about diet and nutrition out there, it's easy to get caught up in the details and over-complicate it. I say focus on the bigger picture, and on the basic principles: eat whole or minimally processed grains, legumes, fruits and vegetables, and avoid animal products and oils. Eat the foods that you enjoy eating and that you can afford. If frozen vegetables and canned legumes will help you stick with this way of eating, then stock up! If you can't afford organic, don't lose sleep over it. Simplifying things will help take the stress out of eating, which in turn benefits your health and increases the likelihood that you'll stick with plant-based eating long-term.
Whole Food, Plant-Based on $5 a Day – Summer Edition
The summer edition of Whole Food, Plant-Based Diet on $5 a Day is a great way to pack an array of nutritious, healthy foods with a sufficient amount of calories to keep you going during your busy summer days. The recipes are purposefully created for the warmer weather and include a variety of summertime favorites like dips, burgers, salads, and wraps. You won't find any casseroles, soups, or stews in this version (see her first book for these). Emma is keeping it cool here!
Highlights from Emma's new book include:
4-week menu plan geared especially for 2 people

Cost of only $5 per day for each person

Money saving tips for grocery shopping

Detailed shopping list for all 4 weeks worth of recipes

An 'In the Kitchen' guide for prepping and cooking plant-based staples

Alternatives for food allergies and sensitivities

31 recipes including breakfast, lunch, dinner, and snack ideas
What I love about his book is that Emma goes out of her way to make this as painless a process as possible. Shopping, preparing, and cooking your own homemade meals is a chore in and of itself, but Emma has done most of the work for you (besides the actual cooking). She's done this by mapping out each and every step along the way to put a budget-friendly, WFPB lifestyle into action for you!
Emma also provides numerous money-saving suggestions throughout the book to help you avoid wasting food (which would be money out of your pocket). For example, after each recipe she makes suggestions for the storage of leftovers with both refrigeration and/or freezing instructions. Her experience comes in so handy this way.
Whole Food, Plant-Based on $5 a Day – Summer Edition also includes adaptations for those on a strict, low-fat WFPB diet like that of Dr. Esselstyn's patients trying to reverse heart disease. In addition, Emma has also included an entire section of the book to accommodate singles who won't be cooking for two people. She's adapted her two-person $5-a-day plan to fit one person. The food costs for the single person plan are still reasonable at only $6.62 per day. This is still a steal considering most people spend more than this to eat an unhealthy, Western-type diet frequenting fast food joints and cheap, processed food.
Reader Feedback on Whole Food, Plant-Based on $5 a Day
Since the ebook series Whole Food, Plant-Based on $5 a Day has been so popular with readers, I wanted to ask Emma what people have been saying about her amazing work.
Dustin: What kind of feedback have you gotten on your ebook series so far? What is everyone's favorite part of your new ebook?
Emma: A lot of people have told me that the eBook made it really easy for them to transition to, or stick with, healthy plant-based eating. Because all the planning and budgeting is taken care of, it allowed them to focus on the enjoyment of cooking and eating. People also love that all the ingredients get used, so there's nothing going to waste. And of course, the affordability has been a highlight for many! Some people have managed to save over $200 a month on their groceries, which I'm thrilled to hear about. Others have lost weight by following the menu plans too- between 4 and 15 pounds in 28 days, which is amazing!
I think everyone's favorite part of the new eBook is the recipes. They feature a lot more fresh produce than the first edition, and most are very quick and easy to prepare. I had a lot of fun developing them! I think that this edition will be just as useful as a recipe book for those who aren't looking to follow the menu plans specifically.
Where Can I Buy Whole Food, Plant-Based on $5 a Day – Summer Edition?
You can purchase Whole Food, Plant-Based on $5 a Day – Summer Edition here. This ebook is available on a 'pay what you want' basis with a minimum donation of $7.95. It is well worth this and more. If you really like it be sure to show your generosity by giving more. Emma has done such an outstanding job putting this book together. She is literally saving lives and saving budgets one bite at a time!
You can visit Emma's website at www.plantplate.com, or follow PlantPlate on Facebook and Instagram. Her original eBook, 'Whole Food Plant-Based on $5 a Day', is available here.


If you like what you see here, then you'll LOVE my daily Facebook and 
Twitter posts! Also, don't forget to sign up for my Free Online Mailing List to get all the latest updates from the Plant-Based Pharmacist!
Check out my book, The Empty Medicine Cabinet, to start your journey towards better health. This step-by-step guide leads you through many of today's common chronic diseases (heart disease, obesity, diabetes, cancer, and more), giving you the facts on food versus medication in treating these medical conditions. The book also contains an easy-to-follow guide on how to adopt a whole foods, plant-based diet as a part of an overall lifestyle change, producing the best possible health outcomes for you and your family. Hurry and get your copy today.
(Visited 1,573 times, 1 visits today)