Every plant-based foodie needs a great salad dressing. Eating greens plain would be bitter and boring otherwise. Solution – my Orange Citrus Vinaigrette Dressing.
This dressing is tangy and delicious! It makes eating a salad fun and enjoyable. Now you can get all those phytonutrients from your greens AND your dressing with this no-oil salad dressing. The burst of citrus is perfect for dressing up a light lunch or pre-dinner salad. Try it out!
Orange Citrus Vinaigrette Dressing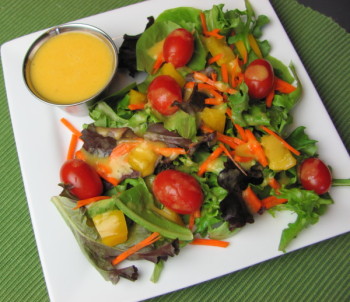 Prep time: 5 minutes
Ingredients:
1/3 cup Apple Cider vinegar
1 Orange
1 clove garlic, minced
1 tbsp Dijon mustard
2 tsp maple syrup
Juice of 1/2 lemon, freshly squeezed
Directions:
Place all ingredients in a high-powered blender and blend until smooth. Use immediately if possible. This recipe does refrigerate, but you may have to remove from fridge and let it sit at room temperature for a while due to thickening developing overnight.
Note – For a sweeter version, use less Apple Cider vinegar and/or more maple syrup, adjusted to your taste preferences of course.
If you like this recipe then check out my other recipes here.

If you like what you see here, then you'll LOVE my daily Facebook and Twitter posts! 
Also, don't forget to sign up for my Free Online Mailing List to get all the latest updates from the Plant-Based Pharmacist!
Check out my book, The Empty Medicine Cabinet, to start your journey towards better health. This step-by-step guide leads you through many of today's common chronic diseases (heart disease, obesity, diabetes, cancer, and more), giving you the facts on food versus medication in treating these medical conditions. The book also contains an easy-to-follow guide on how to adopt a whole foods, plant-based diet as a part of an overall lifestyle change, producing the best possible health outcomes for you and your family. Hurry and get your copy today!
(Visited 1,157 times, 1 visits today)