This kale and butternut squash veggie soup is the perfect way to warm up a cold, chilly winter evening. It's also a good way to boost your health, as it is packed with vitamins and minerals from all the vegetables contained in it.
This soup is easy to make and requires just a few preparation steps with getting the brown rice and chickpeas ready beforehand. I cooked the chickpeas in the pressure cooker while I was making the rest of the soup to make best use of my time. I also had pre-cooked brown rice from the night before in my refrigerator ready to go for this recipe.
Kale and Butternut Squash Veggie Soup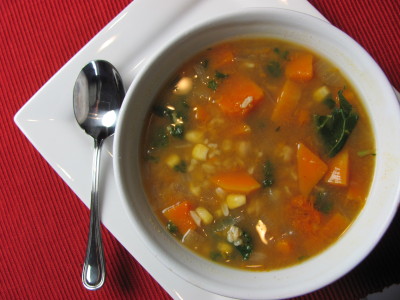 Prep time: 10-15 minutes
Cook time: 20-25 minutes
Ingredients:
1 butternut squash (peeled and chopped into cubes)
8 oz chopped kale
1 cup frozen organic or non-GMO corn
2-3 cups cooked brown rice
1 onion (chopped)
1-2 cups chickpeas (cooked) or 15 oz can no-salt added chickpeas
32 oz low-sodium vegetable broth
1 tsp garlic powder
1-2 tsp cinnamon
1-2 tsp ground cumin
Water
Directions:
The brown rice and chickpeas need to be cooked before adding to soup, so prepare these items beforehand or use canned chickpeas instead.
Add squash, corn, and onion to large pot. Sauté for 2-3 minutes. Add small amount of water if needed to prevent veggies from sticking to bottom of pot. Add garlic powder, cinnamon, and cumin and stir mixture.
Add brown rice, veggie broth, and chickpeas. (Note – if you are cooking dried chickpeas then add them at the end with the kale). Add enough water to cover the rest of the vegetables. Cook covered on medium heat for 15-20 minutes.
Add kale and cook a few more minutes until greens are fully integrated and soft. Let stand a few minutes before serving.
Note – You can use Great Northern white beans in place of chickpeas if you wish. Also, I did not use a specific quantity for some of the seasonings because everyone has different tastes. Use more or less of the seasonings listed above based on your taste preferences.
If you like this recipe then check out my other recipes here and be sure to share with all your friends.

If you like what you see here, then you'll LOVE my daily Facebook and Twitter posts! 
Also, don't forget to sign up for my Free Online Mailing List to get all the latest updates from the Plant-Based Pharmacist!
Check out my book, The Empty Medicine Cabinet, to start your journey towards better health. This step-by-step guide leads you through many of today's common chronic diseases (heart disease, obesity, diabetes, cancer, and more), giving you the facts on food versus medication in treating these medical conditions. The book also contains an easy-to-follow guide on how to adopt a whole foods, plant-based diet as a part of an overall lifestyle change, producing the best possible health outcomes for you and your family. Hurry and get your copy today!
(Visited 611 times, 1 visits today)