Holy Moly Guacamole! Calling all Mexican cuisine fans. This guacamole dip is sure to satisfy your taste buds as you get your Mexican fiesta started. Whether you need a topping for your tacos, a dip for your chips, or the perfect tostada spread, this recipe is a must.
This guacamole recipe is 100% plant-based made with all whole food ingredients. There's no oil either for those following an oil-free diet. It's just good, old-fashioned food!
Holy Moly Guacamole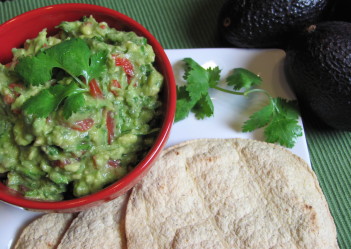 Prep time: 15 minutes
Ingredients:
3 avocados, peeled and chopped
3 green onions (scallions), finely diced
1 jalapeño, finely diced
1 small sweet red pepper, finely diced
1 small red tomato, diced
1/4 cup fresh cilantro, finely chopped
2 limes, squeezed and juice reserved
Directions:
Add onions, jalapeño, and cilantro to a large bowl. Pour juice from the limes into bowl. Mix ingredients well and set aside for approximately five minutes.
Chop tomato and sweet red pepper and put to the side. You will add these ingredients at the end.
Peel and cut the avocados into small cubes. Add avocado cubes to onion, jalapeño, cilantro, and lime juice mixture. With a fork, smash the avocado cubes to produce a smooth mixture. Leave some of the avocado cubes in small chunks to give the dish more texture.
Stir in the tomato and sweet red pepper and mix well. The lime juice should preserve the avocado so it doesn't turn brown right away.
Note – You can use freshly squeezed lemon juice in place of lime juice if you aren't a fan of lime.
If you like this recipe then check out my other recipes here and be sure to share with all your friends.

If you like what you see here, then you'll LOVE my daily Facebook and Twitter posts! 
Also, don't forget to sign up for my Free Online Mailing List to get all the latest updates from the Plant-Based Pharmacist!
Check out my book, The Empty Medicine Cabinet, to start your journey towards better health. This step-by-step guide leads you through many of today's common chronic diseases (heart disease, obesity, diabetes, cancer, and more), giving you the facts on food versus medication in treating these medical conditions. The book also contains an easy-to-follow guide on how to adopt a whole foods, plant-based diet as a part of an overall lifestyle change, producing the best possible health outcomes for you and your family. Hurry and get your copy today!
(Visited 1,102 times, 1 visits today)